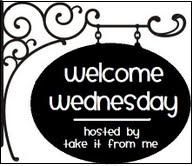 Joining in to Welcome Wednesday!  Please enjoy your visit, and leave some comment love as well!
Meet Jennifer MakingOurLifeMatter
Jennifer S has written 554 entries on this blog.
I am a wife, Mom, and wrangler of 2 four-legged family members. I love my coffee(especially iced coffee), reading, and spending time with the family. Working FT as a bookseller fuels my reading addiction, and pays for my coffee obsession. A Philadelphia sports fanatic, baseball Mom, aspiring beach bum and lover of sunshine. So pull up a chair, grab your favorite beverage, and stay for a while.