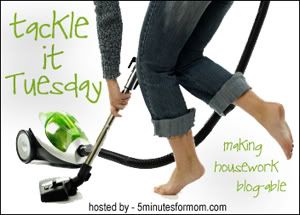 Okay, I have been spending a lot of time blogging, and not enough taking care of things around the house.  So in order to keep myself accountable today, I have decided to make a list of the things I have to tackle.  I think I may have mentioned in a
previous post
that I tend to spend more time blogging, and not enough homemaking. So, instead of blogging, tweeting, and following, I will be doing the following things:
Taking the Saturn for new tires
Cleaning and organizing the pantry shelves
Cleaning out under the kitchen sink
Putting away baskets of folded laundry
Garbage and recycling
You know, the more that I look at this post, the more I think I'd rather be blogging!  But, alas, the housework must get done.  It's a good thing I don't have a smart phone, or be checking blog posts every two minutes I'd waste my time while waiting for the car to get done!