In honor of being Out Of The Office, I am moving blog posts from an old blog I am deleting.  Please enjoy!
So what's a good vacation post without talking about where you stay?  So here is a little about the wonderful motel we stay at while in Wildwood.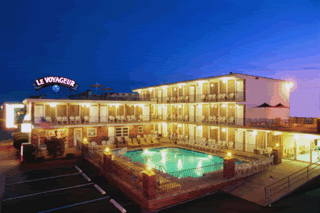 This is where we stay.  It's called the LeVoyageur Motel in Wildwood, NJ.  It's a block up from the convention center, and only a block and a half from the boardwalk.
Of all the places I have stayed at, this place is by far the best.  The rooms are immaculate.  The bed linens, towels, etc are always fresh, and always in large numbers.  Another plus is that the bathrooms are extremely clean, which is saying a lot for a bathroom that is not your own.  But the thing that makes this motel stand out from all others is the owners, Dennis and Grace.  They know us by name, and are genuinely interested in our life away from the motel.  They stay right there, and are actively involved in every operation.  It's not unusual to see them pitching in to help clean a room, or stopping to chat, or spending time with the guests.  They always have their famous "hot dog roast", too.  They really out do themselves.
Here are some shots from our room:


Hubby on the front patio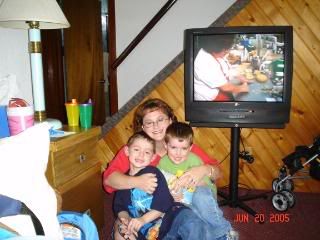 The boys and I in the living room(notice the date? Just to give you an idea, we've been coming to this same place since 1999).

MIL and SIL relaxing in the living room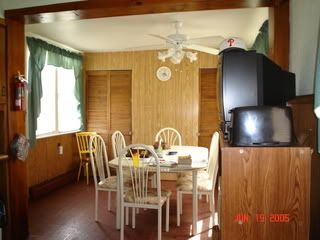 A view of the kitchen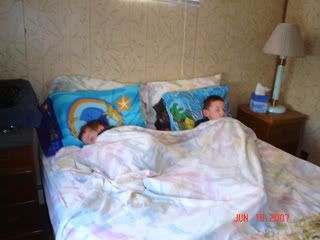 The boys sacked out in Nan and Pop's room after swimming

Backyard shot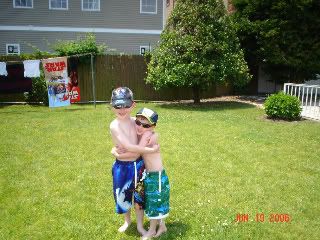 Another yard shot

The welcoming front door!
Can you see why we love it?
Tags : hotel recommendation, LeVoyageur Motel, vacation, Wildwood NJ