*Repost from an old blog.  We love Wildwood, and enjoyed a long weekend there last year.
Saturday:
We managed to get up and out of the house relatively on time, he he.  I was packed the night before so everything was ready.  Took me only 5 minutes to pack the Saturn for 4 people, and off we went.  We picked up SIL, and were off.  The trip was smooth~keep in mind I slept through most of it
~, and we got done there about 10:45 am.  First thing on the agenda, a craft show in Wildwood Crest at the Lake.
A view of the stands(not all of them)
Mr. Jeremy enjoying his hot dog for lunch
Dave and my MIL(enjoying getting her picture taken, as usual  )
You can't really see it, but there are people "crabbing" on this boat.
We spent about an hour at the craft show, and then drove back to the motel.  After we got back, MIL and FIL and Pap took the boys mini-golfing.  Dh and I?  We took a nap.  The adventurers came back and went out to play in the backyard.  Dh and I? Still napping, he he.  It was luxurious to just cuddle on the bed together and rest.
Well, after everyone rested, we got up and went to Bayside for supper.  This picture was taken as we were leaving our house to head over there.  This picture doesn't do the scene justice, however.
After a very filling meal of fettucine alfredo for myself, lasagna for dh, Dave and Pap, baked ziti for Nana and Jennifer, stuffed shells for the boys, cheese ravioli for MIL, and a whole pizza for FIL(he ate 6 of the 8 slices, too), we headed back to the house to get ready for the boardwalk.
I took this picture while we were waiting to walk up to the boardwalk.  They actually were getting along!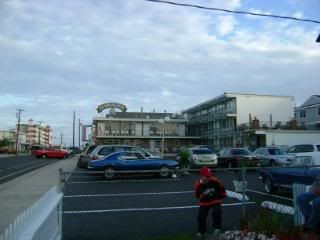 Another shot of the hotel
So, once everyone was ready, we headed up.  It was cool, but not too cool.  It was pretty windy to, but it settled down once the sun went down.  We walked all the way up to Fascination(bingo with balls) and I won twice and dh won one time, and Jennifer one once.  Poor FIL did not have any luck.  The boys played with MIL, and Nana and Pap at the arcade part.
After we were finished, we headed off to our favorite spot: Gateway 26.  No jackpots this time, but we had lots of fun.  Dh and DS #1 had their 3 game bubble hockey tournament.
They hadn't had this out in 2 years, so you can imagine the excitement when they saw it.  Oh yeah, Daddy won 3 games to none.  Even with his brother "helping".
So once gaming was finished, we headed back up the boardwalk.
DS's had Dairy Queen Blizzards for their snack, dh had Kohr's Brothers pumpkin spice(all it needed was some whipped cream on top and it would have been perfect, lol!)  As for me, I had my usual Auntie Anne's for my treat.  DMIL, DFIL, Jennifer and Pap all had Sea Shell ice cream.
Back to the room, and the kid's got baths.  Johnny and Daddy sat in the kitchen and watched the Phillies on tv:
Male bonding at it's best.  You would have thought the World Series would have been on TV.  I still love them, even though they take it waaaaaayyyyy too seriously.  And they won, too.
Sunday:
After a good night's rest, we all headed to Duffer's for breakfast.  If you ever get here, I seriously recommend their stuffed french toast.  Back to the hotel to pack up for the ride home.  The boys burned off some excess energy in the yard.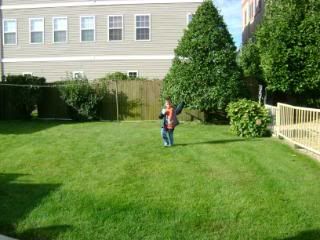 So after a sad goodbye, it was back in the car to drive home.  So I hope you enjoyed the recap of my weekend!
Tags : boardwalk, family time, mini-golf, wildwood