Mother's Day is right around the corner and I've gotten together with a group of bloggers to bring you a giveaway and blog hop that we are hoping will bless your socks off!
We not only hope to bless several moms with some pretty awesome giveaway prizes, but we also hope to bless many more moms through the Letters to Moms Blog Hop (that you can find at the end of this post), where each participating blogger is writing a 'Dear Mom' letter.  These letters will be anything from a letter to our own moms, a letter to ourselves, a letter to a mother figure, or a generalized letter to a group of moms, such as weary moms, hopeless moms, expecting moms, single moms……. Maybe one of these letters will speak to you!
So please, hop around to the many other bloggers below, and of course enter to win the giveaway too – there will be 4 winners with the total prize value over $1000!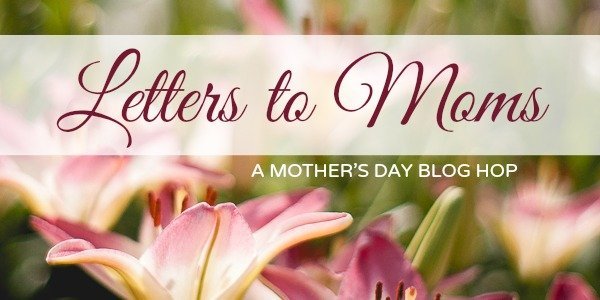 Dear Single Mom,

Each week, twice a week, you come into my life with your beautiful daughter. If I am really lucky, it is 3 times. Every time you come in, you make my day a little brighter. Your smile, your laughter, everything about you is beautiful.

Only you don't seem to know it. I see the lonely ache in your eyes, especially when you see other Moms their with their complete families.

And my heart aches for you. I hear you talk about your boyfriend, and I can hear the longing in your voice to have more. To be part of more. To provide the best for your daughter.

And the Mom in me kicks in and I want to Mother you both. I wish you could see the strength that you possess, and the wonderful qualities you are instilling in your daughter.

You are the one that makes your daughter clean up the messes she makes. And you are the one that sets an example for her by cleaning up the messes of other people. You are the one that stops and helps me to clean up from those that don't care enough about the people around them.

You have no idea about how you are setting the best example for your daughter. To put others first, to do what's right, to have pride in one's actions. I thank you for that. I am proud of you for that. I applaud you for that.

Keep smiling, keep believing, and keep teaching for your daughter!
And now for the giveaway!
The prizes will be as follows –
Prize 1 – Kitchen Aid Stand Mixer
Prize 2 – Slow Cooker
Prize 3 – Keurig Coffee Maker
Prize 4 – ALL 3 of the prizes above
Each winner will also win a digital copy of I'd Rather Be Your Mommy by Stacy Farrell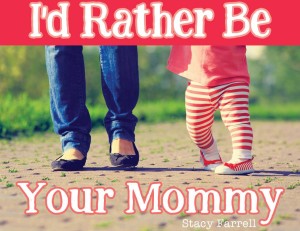 Use the Rafflecopter form below to enter:
Tags : Moms, Mother's Day, parenting