Today is a beautiful day. Well, not because of the weather, as it is cold and gray and rainy! I am a sunshine-loving girl, so normally I would be upset and down that the sun isn't shining. But not today! Today is a very special day for me, it's my SITS day! What is SITS, you ask? Click on the graphic below to find out more.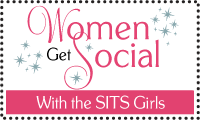 To have a SITS day is an honor, and I am extremely grateful to have this opportunity!  Not only did I learn a wealth of information from the SITS website, but I had the opportunity to join the #31DBBB challenge on

the SITS forum

. It's been an awesome source of information, support, and a great place for new bloggers to start out!  From this challenge, a group of us started a FB group to continue to support one another.  Please check out The Misfit Bloggers, it's a terrific

group of ladies

with blogging knowledge.  We'd love to have you join in and continue to show the SITS love!
This past weekend was a very busy weekend in our family.  Now that Spring is here, and summer is knocking on the door, our family is always on the run.  I am not complaining though, as I feel very blessed that we are able to do all the things that we do.  My husband takes awesome care of his family, and goes out of his way to make sure that we are safe, happy, and content.  Friday night was just an absolutely gorgeous night.  We went up to our favorite baseball park to watch a friend's team play.  It is so neat to be able to just sit and watch a game without worrying about keeping score(my husband is our team's scorekeeper and is known by all as "The Book"), performing team Mom duties, or making sure that no one gets hurt.
In case you haven't seen any of my blog(and I really hope you take time to look around), our family is really big on sports.  My oldest son play's baseball for a local team, and has been playing here for the past 5 years.  It is a terrific program, and we have met some wonderful friends at this park.  My husband is an assistant coach/team scorekeeper, and I am a team Mom for our Knee-Hi team.  My youngest has no interest in playing baseball, so he actively pursues his job as spectator!  And chief snack-bar supporter.  For great tips to avoid spending a lot of money in the snack bar, take a moment to visit this post.
I hope that you enjoyed your time here at Making Our Life Matter.  I am totally blessed and honored to have this featured day by the SITS girls.  I hope that you take a moment to visit the site to get an idea of all the wonderful resources that are available to bloggers! 
Tags : baseball, blog hop, blog support, life events, SITS day, SITS forum